Market Commentary
The Dow Jones Industrial Average hit an all-time high as larger cap equities remain relatively attractive from a price-multiple perspective. The rotation from growth to value stocks continued in April, with investors rebalancing from high-growth tech stocks to more defensive sectors that trade at more attractive valuations and pay higher dividends (e.g., utilities, healthcare, staples). This is a healthy development that somewhat diffuses any concern of a "tech bubble." European equities continue to benefit from a pick-up in manufacturing activity and economic growth. Interest rates continued their decline, further benefitting the recovery in fixed income, as the Barclays Aggregate again beat the S&P 500 for the month and remains ahead YTD.

Market News
- Over the last two months, the Nasdaq has suffered a 5% loss relative to the more diversified S&P 500, led by companies like Netflix and Tesla, as investors take profits in their tech and biotech stocks that were big winners in the last few years

- Russia's economy continues to suffer related to its conflict with Ukraine: S&P cut its rating on Russian debt to one step above junk (BBB-), while its central bank was forced to raise short-term rates to 7.5% given rampant inflation and capital flight

- Agricultural commodities have risen sharply in 2014, as draught conditions in the Americas and increased demand from Asia have caused spikes in everything from Arabica coffee (61%) to corn (20%) and soybeans (12%)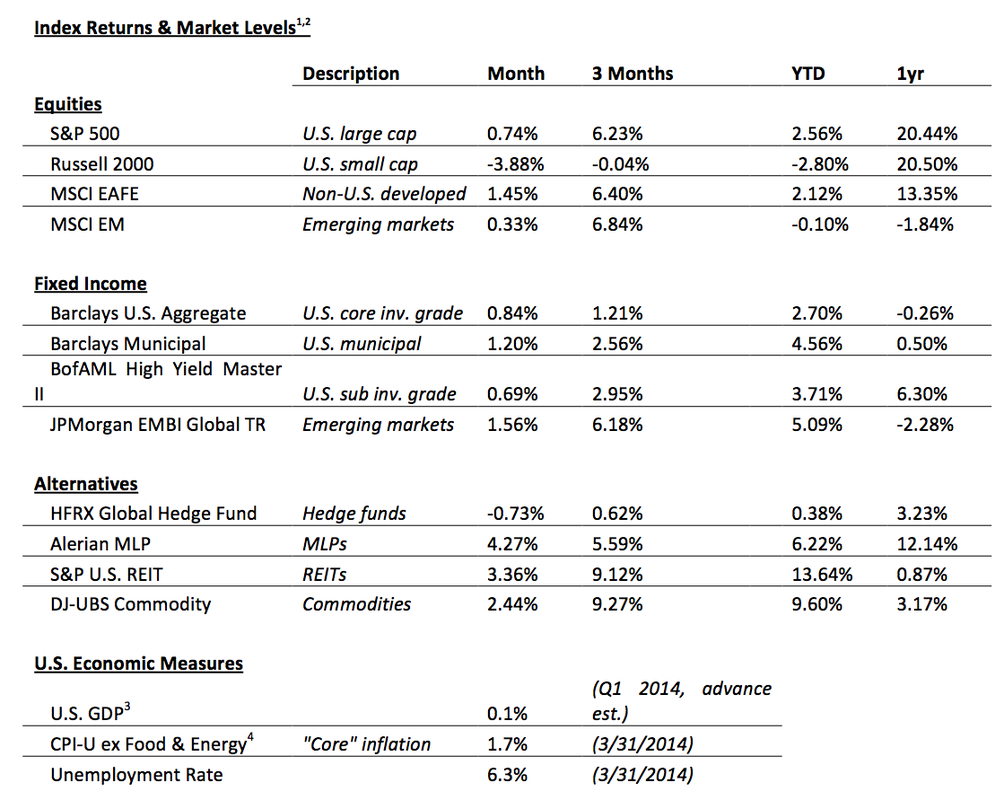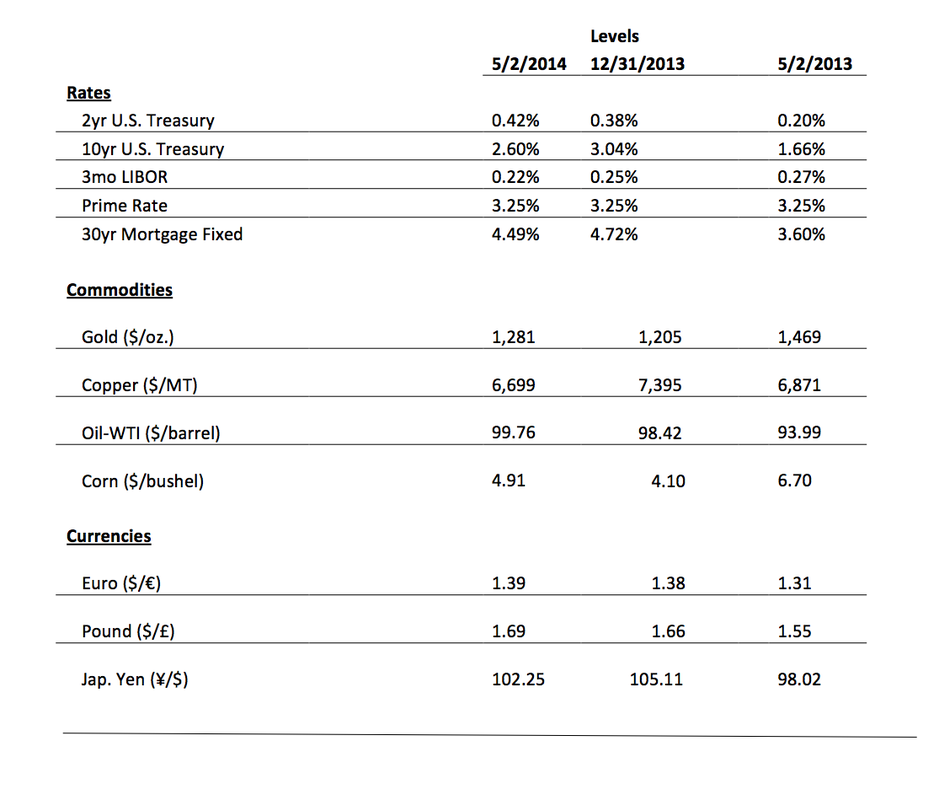 IMPORTANT DISCLOSURES

Sources: Bloomberg, J.P. Morgan Asset Management, Morningstar, Hedge Fund Research, Bureau of Labor Statistics, Bureau of Economic Analysis. 2) Data as of the date of this report unless otherwise noted. 3) U.S. GDP measures the percentage change during the referenced quarter as published by BEA. 4) Consumer Price Index for All Urban Consumers: U.S. City Average, All Items Less Food and Energy is based on 12-month percent change as published by BLS.

This material is provided for informational purposes only and does not constitute an offer or solicitation by HFS, or its subsidiaries or affiliates, to invest in these indices or their constituent products. The data contained herein are from referenced sources which HFS believes to be reliable. This information discusses general market activity, industry or sector trends, or other broad-based economic, market or political conditions and should not be construed as research or investment advice. The views expressed are those of HFS. They are subject to change at any time. These views do not necessarily reflect the opinions of any other firm. Investing involves a high degree of risk, and all investors should carefully consider their investment objectives and the suitability of any investment. Past performance is not necessarily indicative of future results. All data is as of the date of this report unless otherwise noted.