Market Commentary
May was a good month all around, with equities and fixed income posting solid results. Two of the best performing equity sectors for the month – emerging markets and tech (Nasdaq) – both happened to be the worst performers in April. The M&A boom was beneficial for the tech sector, while EM continues seeing investor interest given relatively low equity valuations and high-yielding debt. Domestic small caps remain the lone weak spot in equities. Bond markets furthered their recovery from 2013 but telegraphed economic weakness as Q1 growth estimates declined and inflation remains stubbornly out of sight. Interest rates fell across the board, with the US 20yr Treasury price index hitting an all-time high.

Market News
Corporate M&A is off to its fastest start in at least 20 years, with $638 billion in deals announced YTD; this has fueled equities, as the stock of merger targets has risen on average 18% the day after the announcement (WSJ)
Q1 GDP was revised to -1.0%, as business spending decreased and home building was negatively impacted by the cold winter; however, growth has picked up in March/April and is estimated to average 2.5%+ for the rest of the year
Q1 earnings season is almost over, and there has been notable pickup in corporate confidence and indications of increased capital expenditures; S&P 500 earnings are on track for 6.4% YOY growth (J.P. Morgan)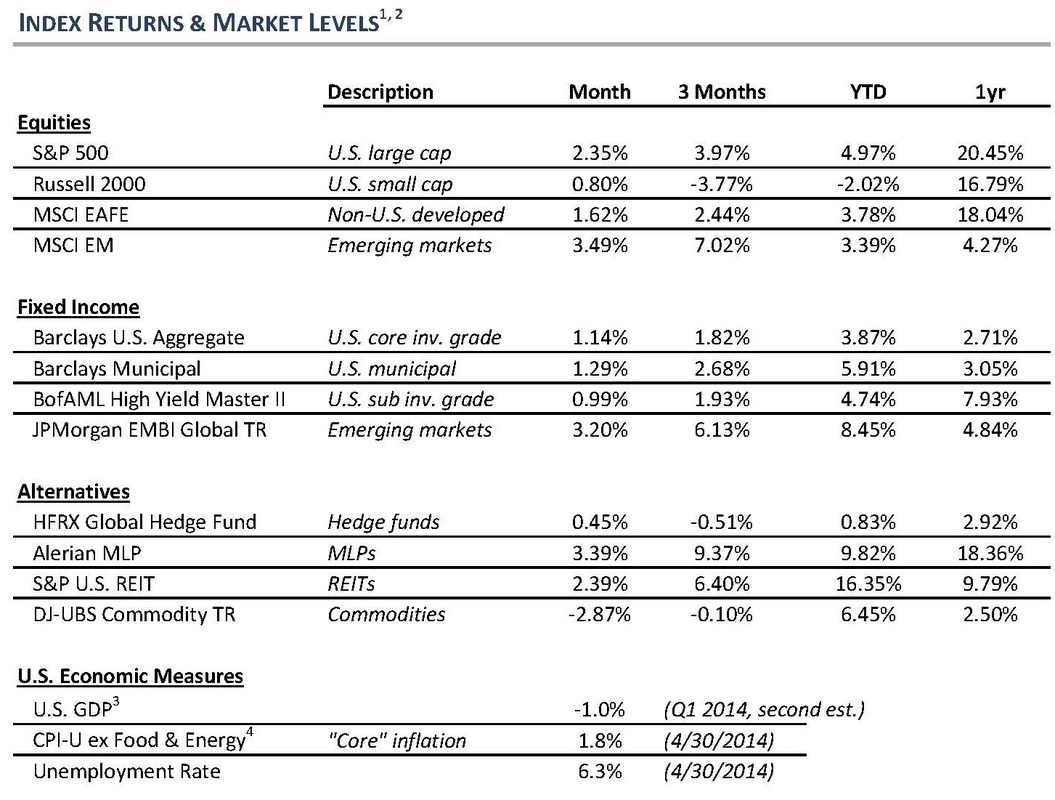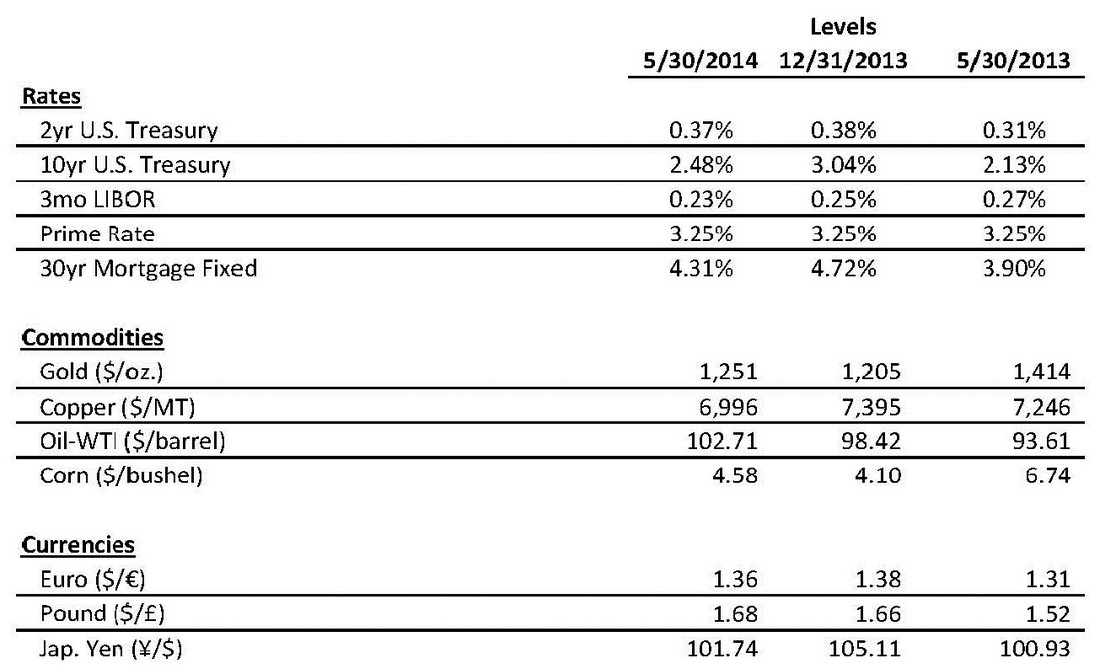 IMPORTANT DISCLOSURES

Sources: Bloomberg, J.P. Morgan Asset Management, Morningstar, Hedge Fund Research, Bureau of Labor Statistics, Bureau of Economic Analysis. 2) Data as of the date of this report unless otherwise noted. 3) U.S. GDP measures the percentage change during the referenced quarter as published by BEA. 4) Consumer Price Index for All Urban Consumers: U.S. City Average, All Items Less Food and Energy is based on 12-month percent change as published by BLS.

This material is provided for informational purposes only and does not constitute an offer or solicitation by HFS, or its subsidiaries or affiliates, to invest in these indices or their constituent products. The data contained herein are from referenced sources which HFS believes to be reliable. This information discusses general market activity, industry or sector trends, or other broad-based economic, market or political conditions and should not be construed as research or investment advice. The views expressed are those of HFS. They are subject to change at any time. These views do not necessarily reflect the opinions of any other firm. Investing involves a high degree of risk, and all investors should carefully consider their investment objectives and the suitability of any investment. Past performance is not necessarily indicative of future results. All data is as of the date of this report unless otherwise noted.