Market Commentary
July was a weak month across the globe, with most major markets generating negative results. In developed economies, equity performance was dictated by market capitalization, with large caps returning -1 to -2%, mid caps -3%, and small caps -6%. The lone bright spot was emerging market equities, which returned 1.9% on an expansion in Chinese manufacturing orders. European investors sought safety in German bunds on the news of a Portugese bank defaulting on its debt obligations and further tensions in Ukraine and the Middle East. The 10yr U.S. Treasury was largely unchanged for the month, while high yield experienced losses as $5.4 billion was redeemed from non-investment grade ETFs and funds.
Market News
GDP is expected to expand by 4.0% during Q2 as companies report strong sales and inventory restocking; additionally, GDP for Q1 was revised upward, from -2.9% to -2.1% (BEA)
The S&P 500 is on track to set another record earnings quarter in Q2, as companies are reporting 10.1% YOY growth and profit margns at 10.1%; thus far, 78% of reported EPS has surpassed estimates by 6% (J.P. Morgan)
The $5.4 billion that exited junk bond strategies in July was the largest outflow in 13 months; the move appears technical in nature, as retail sellers concerned about valuations have been filled by institutional buyers (Goldman Sachs)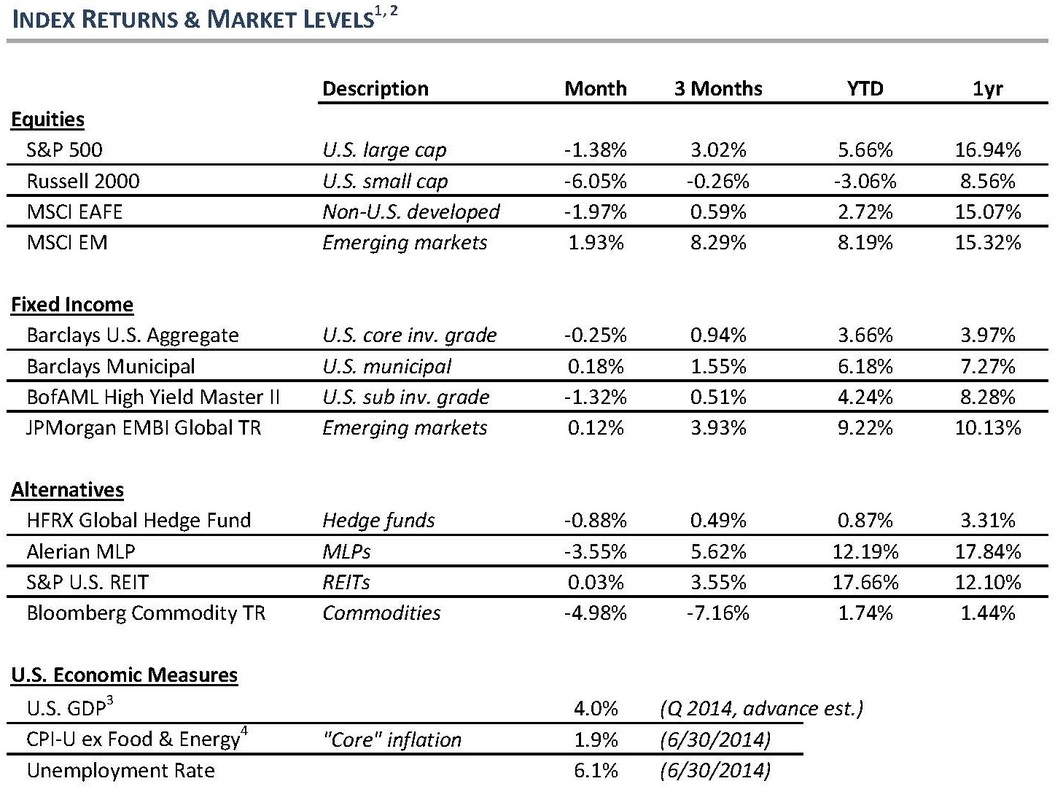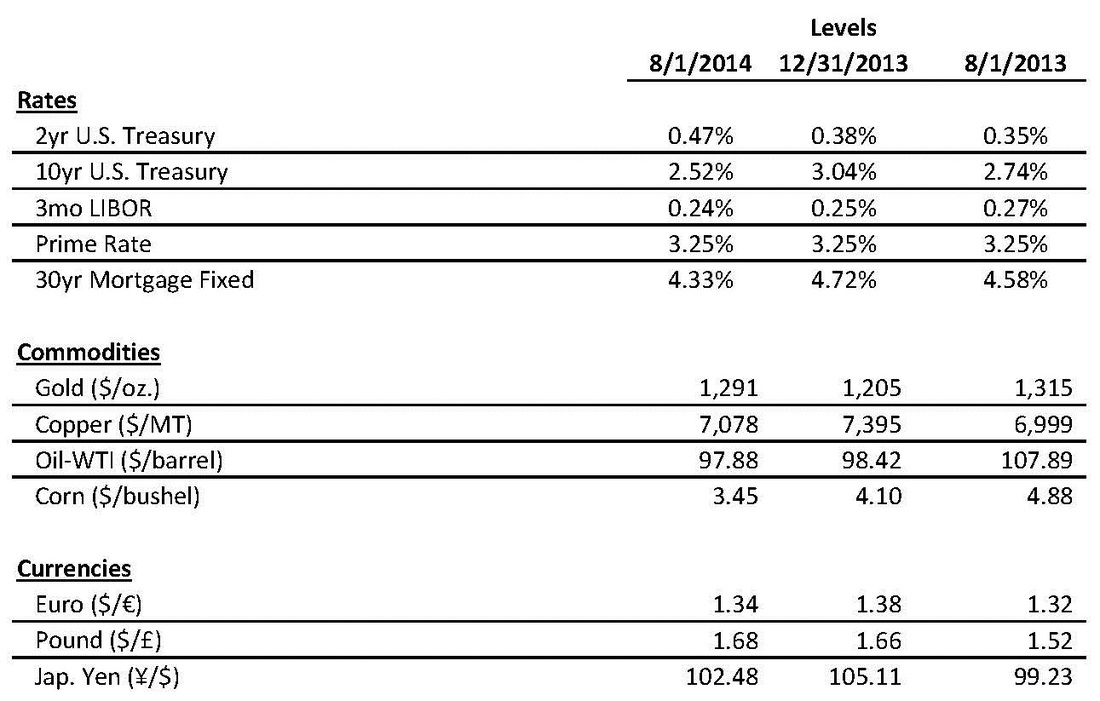 Notes: 1) Sources: Bloomberg, J.P. Morgan Asset Management, Morningstar, Hedge Fund Research, Bureau of Labor Statistics, Bureau of Economic Analysis. 2) Data as of the date of this report unless otherwise noted. 3) U.S. GDP measures the percentage change during the referenced quarter as published by BEA. 4) Consumer Price Index for All Urban Consumers: U.S. City Average, All Items Less Food and Energy is based on 12-month percent change as published by BLS.

Disclosures: This material is provided for informational purposes only and does not constitute an offer or solicitation by HFS, or its subsidiaries or affiliates, to invest in these indices or their constituent products. The data contained herein are from referenced sources which HFS believes to be reliable. This information discusses general market activity, industry or sector trends, or other broad-based economic, market or political conditions and should not be construed as research or investment advice. The views expressed are those of HFS. They are subject to change at any time. These views do not necessarily reflect the opinions of any other firm. Investing involves a high degree of risk, and all investors should carefully consider their investment objectives and the suitability of any investment. Past performance is not necessarily indicative of future results. All data is as of the date of this report unless otherwise noted.