Market Commentary
Volatility was widespread in October, as oil realized sharp declines, the U.S. ended its quantitative easing program, global bond yields fell on deflation concerns, and Ebola caused a global health scare. These macro events led to dispersion amongst asset classes, with U.S. equities generally coming out on top. All sectors of the S&P 500 except for energy posted positive results and small caps rebounded strongly from summer weakness, while global equities continued to suffer from low growth in Europe. Bonds experienced abnormal volatility as credit markets experienced selling pressure early in the month caused by outflows from a large fixed income complex (Pimco) and de-leveraging hedge funds.
Market News
Earnings: with 74.6% of the market cap of the S&P 500 having reported, S&P operating earnings are on track to be a record $29.49 for the quarter, representing 9.6% YOY growth and another high in profit margins at 6.4% (J.P. Morgan)
On October 15th, the yield on the 10yr U.S. Treasury briefly dipped below 2%, as traders reacted to a slide in European equities which exacerbated global growth concerns; the 10yr yield recovered and ended the month at 2.35%
The Federal Reserve ended its quantitative easing program in October, ending its purchase of mortgage bonds, though it will continue to reinvest principal and interest; since 2008, the Fed has quadrupled its balance sheet to $4.48 trillion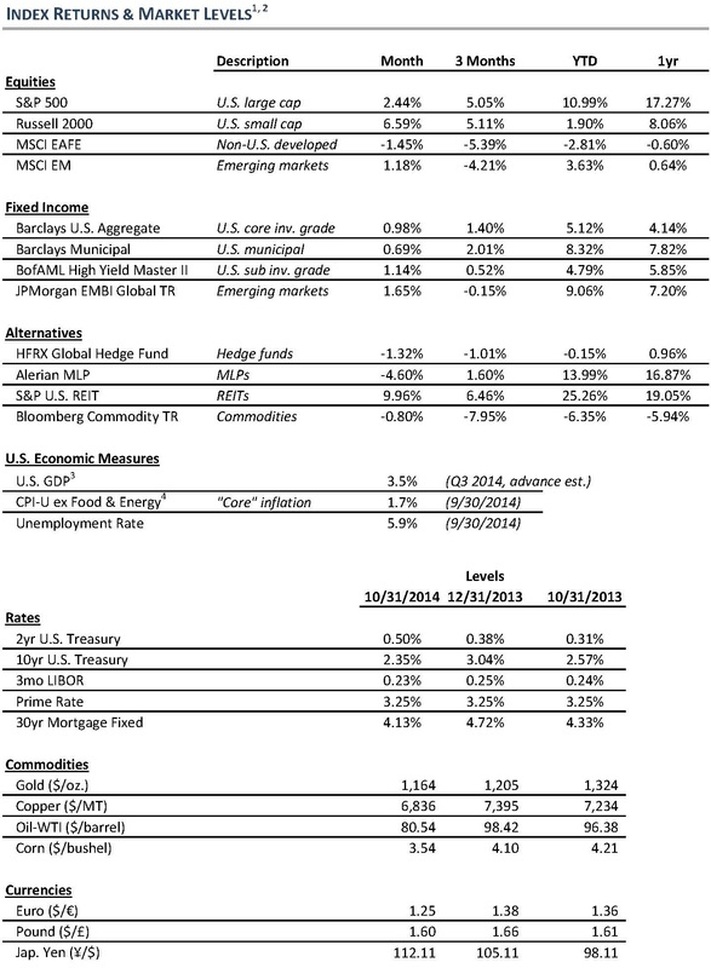 Notes: 1) Sources: Bloomberg, J.P. Morgan Asset Management, Morningstar, Hedge Fund Research, Bureau of Labor Statistics, Bureau of Economic Analysis. 2) Data as of the date of this report unless otherwise noted. 3) U.S. GDP measures the percentage change during the referenced quarter as published by BEA. 4) Consumer Price Index for All Urban Consumers: U.S. City Average, All Items Less Food and Energy is based on 12-month percent change as published by BLS.

Disclosures: This material is provided for informational purposes only and does not constitute an offer or solicitation by HFS, or its subsidiaries or affiliates, to invest in these indices or their constituent products. The data contained herein are from referenced sources which HFS believes to be reliable. This information discusses general market activity, industry or sector trends, or other broad-based economic, market or political conditions and should not be construed as research or investment advice. The views expressed are those of HFS. They are subject to change at any time. These views do not necessarily reflect the opinions of any other firm. Investing involves a high degree of risk, and all investors should carefully consider their investment objectives and the suitability of any investment. Past performance is not necessarily indicative of future results. All data is as of the date of this report unless otherwise noted.