Market Commentary
Global financial markets posted mixed results in November, with the sell-off in crude oil causing further pain to the energy sector. Despite the energy sector's 9% loss, U.S. equities generated positive performance, led by gains in consumer and technology stocks. Developed market equities outperformed emerging, with the diversified economies of the U.S. and core Europe outperforming more industrial, commodity-laden regions like Russia and Brazil. Hedge funds posted modest gains, with trend-following strategies delivering their best monthly return in over five years while hedged equity managers were confounded by weakness in energy and small caps.
Market News
OPEC's decision to not cut crude production caused oil prices to plummet, with WTI closing 30% below its high in June; low crude prices are stimulative for the economy as energy prices make up a larger share of lower-income household budgets
The Q3 GDP "second" estimate was revised upward to 3.9% from 3.5%, with much of the increase coming from companies restocking inventories ahead of the 2014 holiday season
Corporations had another profitable quarter, with Q3 earnings increasing nearly 10% and revenues 4% from Q3 2013; energy and healthcare companies registered some of the biggest profits during the period (Goldman Sachs)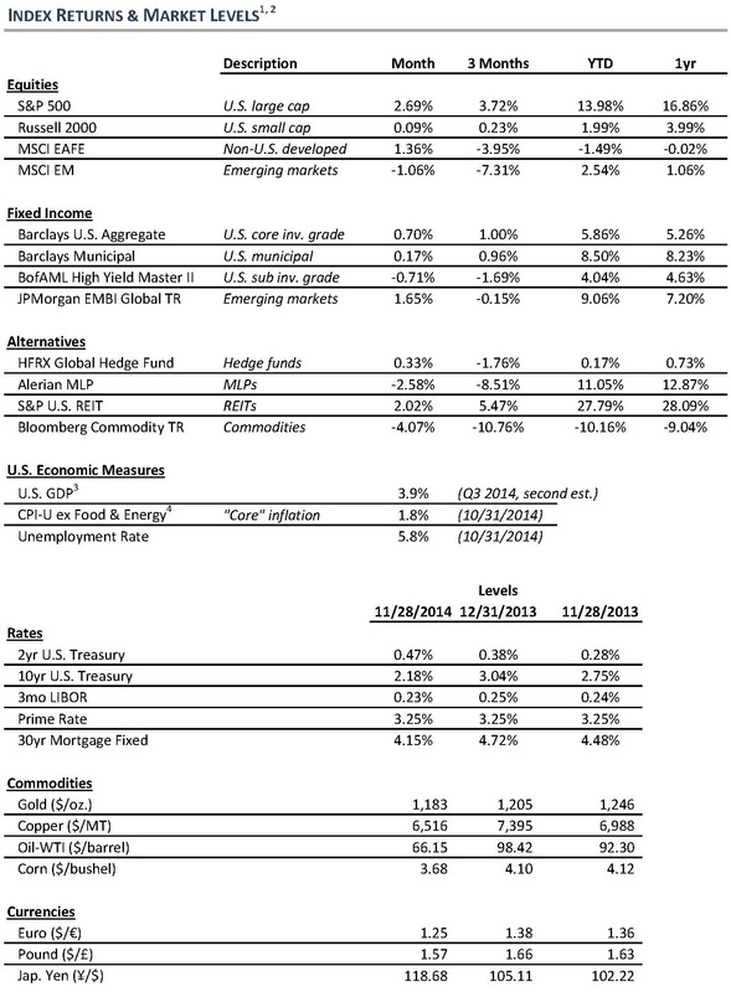 Notes: 1) Sources: Bloomberg, J.P. Morgan Asset Management, Morningstar, Hedge Fund Research, Bureau of Labor Statistics, Bureau of Economic Analysis. 2) Data as of the date of this report unless otherwise noted. 3) U.S. GDP measures the percentage change during the referenced quarter as published by BEA. 4) Consumer Price Index for All Urban Consumers: U.S. City Average, All Items Less Food and Energy is based on 12-month percent change as published by BLS.

Disclosures: This material is provided for informational purposes only and does not constitute an offer or solicitation by HFS, or its subsidiaries or affiliates, to invest in these indices or their constituent products. The data contained herein are from referenced sources which HFS believes to be reliable. This information discusses general market activity, industry or sector trends, or other broad-based economic, market or political conditions and should not be construed as research or investment advice. The views expressed are those of HFS. They are subject to change at any time. These views do not necessarily reflect the opinions of any other firm. Investing involves a high degree of risk, and all investors should carefully consider their investment objectives and the suitability of any investment. Past performance is not necessarily indicative of future results. All data is as of the date of this report unless otherwise noted.