Market Commentary
After a strong year in 2014, U.S. stocks experienced a sharp decline in January, as both large and small company stocks lost over 3%. Lower oil prices were not enough to overcome a Q4 GDP print that was below expectations and the negative impact of a strong dollar on earnings of U.S. multinationals. International stocks proved to be more resilient, with both developed and emerging market companies responding favorably to the announcement by the European Central Bank of a bond‐buying stimulus plan. Treasury yields fell further, defying general expectations and providing
a market backdrop that allowed intermediate bonds to return over 2%.

Market News
With Q4 earnings season nearly complete, companies have begun lowering 2015 guidance and are on track for revenue growth of 6%; revenues are lower than recent quarters due to the impact of a strong U.S. dollar and lower oil prices

The advance estimate for Q4 GDP shows the economy expanded by 2.6%, which is below survey expectations of 3.0%; lower exports and a deceleration in nonresidential fixed investments were cited as main detractors

The Swiss National Bank's removal of the franc's peg to the euro caused the franc to rally against other currencies, making everything from shares of Nestle to Rolex watches relatively more expensive for international consumers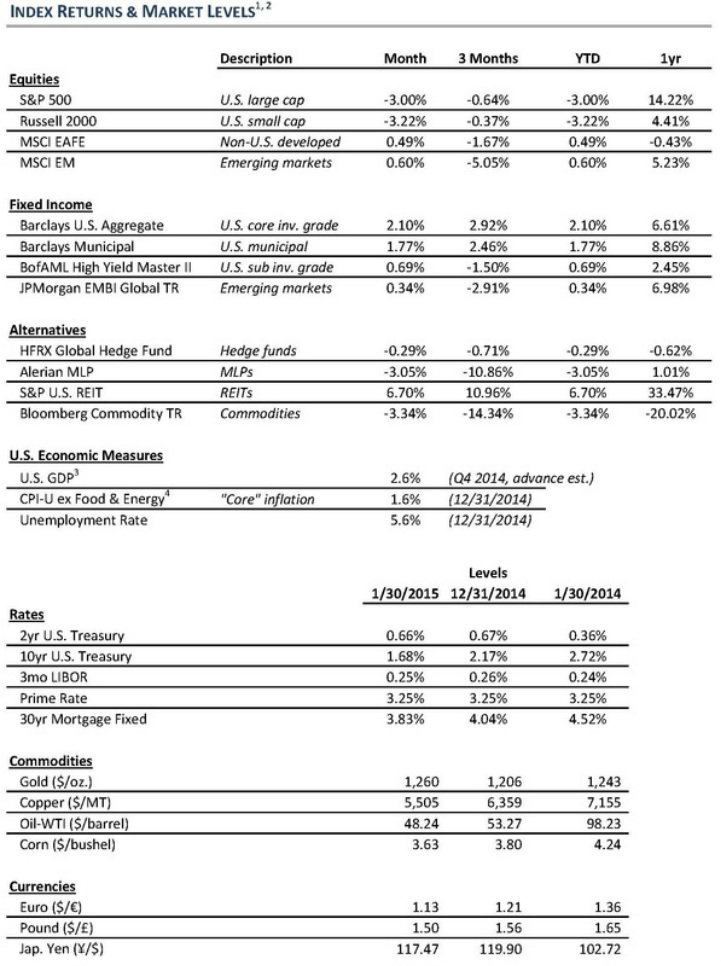 Notes: 1) Sources: Bloomberg, J.P. Morgan Asset Management, Morningstar, Hedge Fund Research, Bureau of Labor Statistics, Bureau of Economic Analysis. 2) Data as of the date of this report unless otherwise noted. 3) U.S. GDP measures the percentage change during the referenced quarter as published by BEA. 4) Consumer Price Index for All Urban Consumers: U.S. City Average, All Items Less Food and Energy is based on 12-month percent change as published by BLS.

Disclosures: This material is provided for informational purposes only and does not constitute an offer or solicitation by HFS, or its subsidiaries or affiliates, to invest in these indices or their constituent products. The data contained herein are from referenced sources which HFS believes to be reliable. This information discusses general market activity, industry or sector trends, or other broad-based economic, market or political conditions and should not be construed as research or investment advice. The views expressed are those of HFS. They are subject to change at any time. These views do not necessarily reflect the opinions of any other firm. Investing involves a high degree of risk, and all investors should carefully consider their investment objectives and the suitability of any investment. Past performance is not necessarily indicative of future results. All data is as of the date of this report unless otherwise noted.