Market Commentary
Equities in the U.S. rebounded in February, with the tech-heavy Nasdaq returning 7.1% and the S&P 500 5.8%. International developed equities posted another positive month, with the MSCI EAFE returning 6.0%, while emerging market equities returned 3.1%. Globally, equities benefitted from positive economic data, with continued declines in unemployment in the U.S. and stronger than expected GDP in the eurozone. Core bonds and other interest rate-sensitive investments (e.g., REITs, utility stocks) struggled on rising interest rates in the U.S., as investors remain cautiuos that the Fed is more likely to increase interest rates in 2015 given the continued strength of the domestic economy.
Market News
- The U.S. dollar has continued its rise against other global currencies, having returned 5.6% in 2015 and 18% since last summer; this move has ripple effects throughout the global economy, from commodity prices to current account balances - A tight labor market in retail is leading to wage growth, as Wal-Mart recently announced a 10% increase in hourly wages for over 500,000 of its full- and part-time workers; per the WSJ, restaurant wages increased by over 3% in 2014 - An agreement was reached between Greece's left-wing Syriza party and the "troika" (IMF, ECB, and European Commission) to extend its bailout for four months, relieving Greek bond holders and stabilizing its banking system through June (WSJ)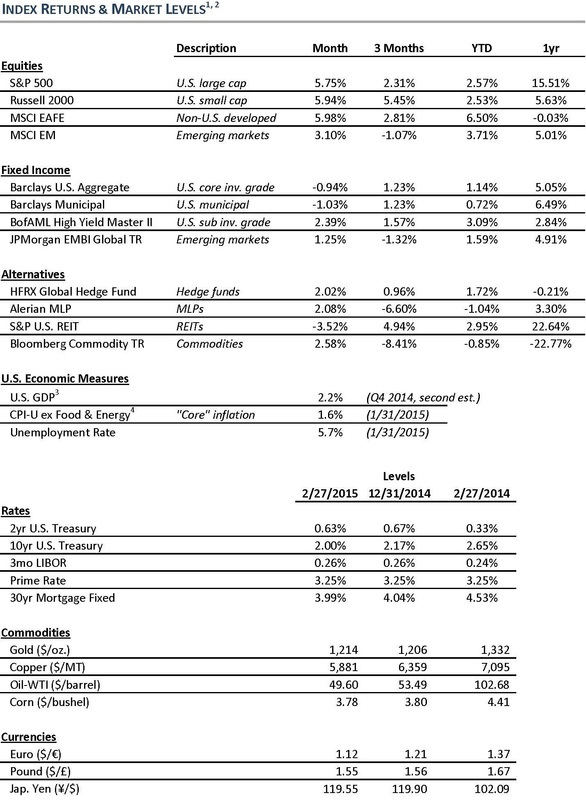 Notes: 1) Sources: Bloomberg, J.P. Morgan Asset Management, Morningstar, Hedge Fund Research, Bureau of Labor Statistics, Bureau of Economic Analysis. 2) Data as of the date of this report unless otherwise noted. 3) U.S. GDP measures the percentage change during the referenced quarter as published by BEA. 4) Consumer Price Index for All Urban Consumers: U.S. City Average, All Items Less Food and Energy is based on 12-month percent change as published by BLS.

Disclosures: This material is provided for informational purposes only and does not constitute an offer or solicitation by HFS, or its subsidiaries or affiliates, to invest in these indices or their constituent products. The data contained herein are from referenced sources which HFS believes to be reliable. This information discusses general market activity, industry or sector trends, or other broad-based economic, market or political conditions and should not be construed as research or investment advice. The views expressed are those of HFS. They are subject to change at any time. These views do not necessarily reflect the opinions of any other firm. Investing involves a high degree of risk, and all investors should carefully consider their investment objectives and the suitability of any investment. Past performance is not necessarily indicative of future results. All data is as of the date of this report unless otherwise noted.