Market Commentary
Concerns over Greece exiting the euro and the Federal Reserve raising short-term interest rates were the dominant themes that impacted global markets during June. Stocks in developed economies, including the U.S. and Europe, sold off ahead of a June 30 deadline for Greece to make a €1.54 billion debt payment to its creditors. In the U.S., small cap stocks were the lone bright spot given their closer ties to the domestic economy, while income‐oriented investments from bonds to utility stocks experienced losses as the Fed held the door open to raising rates later this year.

Despite a negative Q1 GDP estimate, J.P Morgan believes that U.S. economic activity appears to be picking up in Q2, given the strongest consumer since August 2009 and a pickup in stronger housing market data.
Yields on U.S. Treasuries continued their rise throughout the month, resulting in their first quarterly loss since 2013 (e.g., the 10 yr Treasury closed the month at 2.35%, its highest yield since November '14)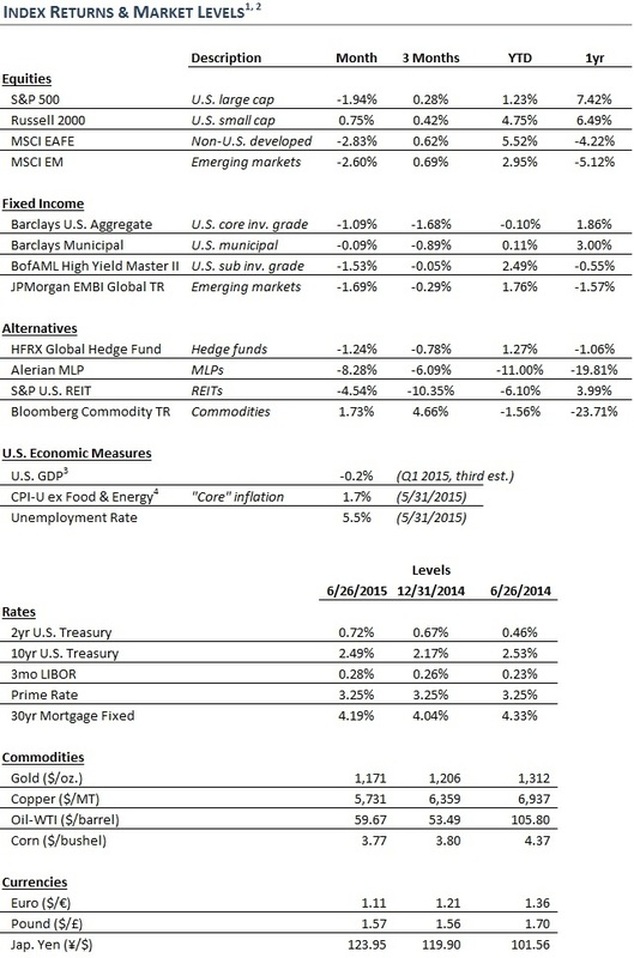 Notes: 1) Sources: Bloomberg, J.P. Morgan Asset Management, Morningstar, Hedge Fund Research, Bureau of Labor Statistics, Bureau of Economic Analysis. 2) Data as of the date of this report unless otherwise noted. 3) U.S. GDP measures the percentage change during the referenced quarter as published by BEA. 4) Consumer Price Index for All Urban Consumers: U.S. City Average, All Items Less Food and Energy is based on 12-month percent change as published by BLS.

Disclosures: This material is provided for informational purposes only and does not constitute an offer or solicitation by HFS, or its subsidiaries or affiliates, to invest in these indices or their constituent products. The data contained herein are from referenced sources which HFS believes to be reliable. This information discusses general market activity, industry or sector trends, or other broad-based economic, market or political conditions and should not be construed as research or investment advice. The views expressed are those of HFS. They are subject to change at any time. These views do not necessarily reflect the opinions of any other firm. Investing involves a high degree of risk, and all investors should carefully consider their investment objectives and the suitability of any investment. Past performance is not necessarily indicative of future results. All data is as of the date of this report unless otherwise noted.