Market Commentary

Equities extended their losses into September, with investors continuing to question the pace of global growth as the Chinese economy continued showing signs of weakness. Developed market equities were not immune, losing 2-5%, while emerging market equities lost 3%. In the U.S., consumer discretionary and utility stocks were the only sectors to generate positive results, while energy and materials continued to lag. WTI crude oil closed down 8% for the month but remains in the $40 range that it has traded in for the last few months. Treasury yields fell on news that the Fed would keep interest rates unchanged and, thus, supported bond markets and provided a safe haven from risk assets.
Market News


The Federal Reserve voted 9-1 to leave the Fed Funds target rate unchanged at 0-0.25%; the Fed cited sub-2% inflation and the potential for further declines given global economic uncertainty
A sell-off in biotech shares caused the healthcare sector to underperform following the Hillary Clinton campaign's pronouncement that pricing in the specialty drug market is "outrageous" and in need of government regulation
The Chinese central bank (PBOC) confirmed that the yuan is not in need of long-term devaluation, affirming that recent action was part of its plan to gradually decouple the currency from the U.S dollar.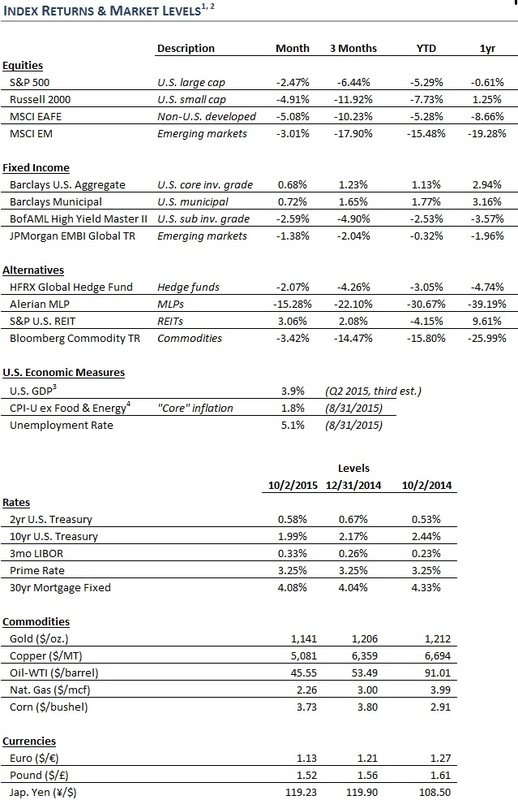 Notes: 1) Sources: Bloomberg, J.P. Morgan Asset Management, Morningstar, Hedge Fund Research, Bureau of Labor Statistics, Bureau of Economic Analysis. 2) Data as of the date of this report unless otherwise noted. 3) U.S. GDP measures the percentage change during the referenced quarter as published by BEA. 4) Consumer Price Index for All Urban Consumers: U.S. City Average, All Items Less Food and Energy is based on 12-month percent change as published by BLS. Disclosures: This material is provided for informational purposes only and does not constitute an offer or solicitation by HFS, or its subsidiaries or affiliates, to invest in these indices or their constituent products. The data contained herein are from referenced sources which HFS believes to be reliable. This information discusses general market activity, industry or sector trends, or other broad-based economic, market or political conditions and should not be construed as research or investment advice. The views expressed are those of HFS. They are subject to change at any time. These views do not necessarily reflect the opinions of any other firm. Investing involves a high degree of risk, and all investors should carefully consider their investment objectives and the suitability of any investment. Past performance is not necessarily indicative of future results. All data is as of the date of this report unless otherwise noted.