Global markets continued to rally throughout the month of July, with investors brushing off Brexit concerns and focusing on favorable economic and market data. Domestic equities generated strong results, with gains broad-based across sectors and market capitalizations on improving earnings and continued strength in job gains. Energy stocks were a modest detractor during the month, as crude oil prices weakened due to heightened inventories and production increases. Abroad, European and emerging market equities also experienced significant gains while investment grade and corporate bonds continued to benefit from declining global interest rates.
-Q2 earnings season is underway and the S&P 500 is expected to register a quarterly decline due to energy weakness, though J.P. Morgan believes that earnings may turn positive later in 2016 as the dual headwinds of weak crude oil and strong dollar dissipate

-Despite a recovery in European equities, the British Pound was unchanged during July, ending at $1.33/GBP, as many economists expect the UK to slip into a recession in the coming quarters given a pullback in business activity following the Brexit vote

-The Bank of England held interest rates steady at 0.25% on the heels of the Brexit vote, surpring the market but committing to provide further stimulus should the economy weaken further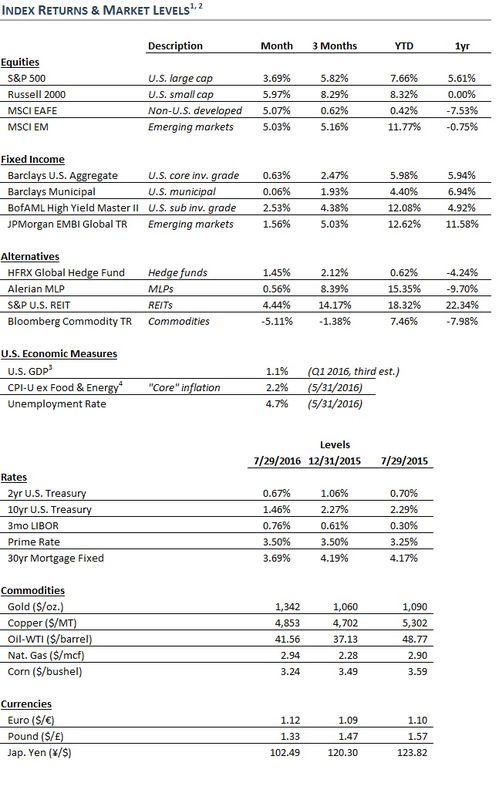 DISCLOSURES

The information presented here is not specific to any individual's personal circumstances. To the extent that this material concerns tax matters, it is not intended or written to be used, and cannot be used, by a taxpayer for the purpose of avoiding penalties that may be imposed by law. Each taxpayer should seek independent advice from a tax professional based on his or her individual circumstances.

These materials are provided for general information and educational purposes based upon publicly available information from sources believed to be reliable—we cannot assure the accuracy or completeness of these materials. The information in these materials may change at any time and without notice.