August was a relatively quiet month, with trading volumes below historical averages and equity share prices experiencing modest appreciation. We continued to see a sector rotation out of defensive sectors ( healthcare, staples, utilities) into more cyclical sectors (technology, industrials, financials), presumably given the somewhat dovish message from the Federal Reserve that conditions are not yet perfectly aligned to support another rate hike. Simply put, in a low interest rate, low growth world, investors continue to seek growth wherever they can find it. In the case of August, investors sought small cap and emerging market equities as well as more equity-like high yield bonds; investment grade bonds and developed market equities were flattish.
Crude prices were lifted in August on a report by the International Energy Agency where they forecast that crude oil demand will outstrip current supply by 1M barrels in the second half of 2016

Minutes from the Federal Reserve's July meeting indicated a willingness to raise the fed funds rate as early as September, though multiple board members expressed doubt that the Fed's 2% inflation target will be reached by then

The pace of initial public offerings coming to market has been the slowest since 2009; through July, 54 companies have raised a total of $11.5B, down nearly 50% from the same period last year; a slew of IPOs are scheduled for after Labor Day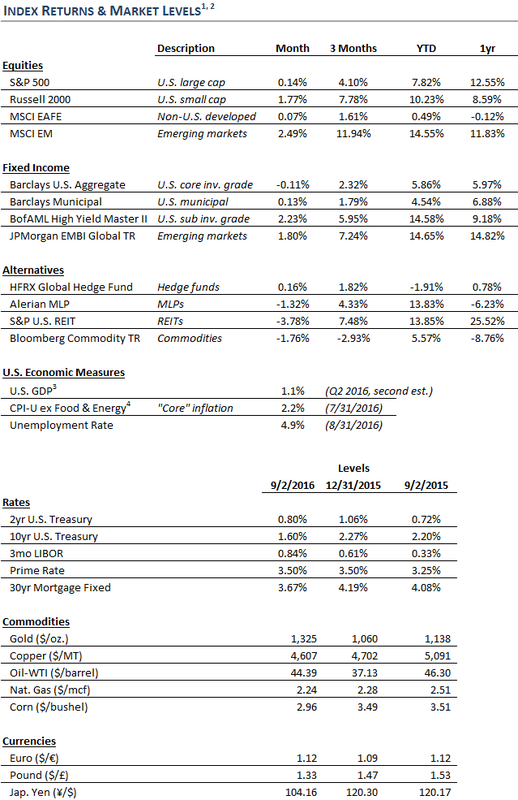 DISCLOSURES

The information presented here is not specific to any individual's personal circumstances. To the extent that this material concerns tax matters, it is not intended or written to be used, and cannot be used, by a taxpayer for the purpose of avoiding penalties that may be imposed by law. Each taxpayer should seek independent advice from a tax professional based on his or her individual circumstances.

These materials are provided for general information and educational purposes based upon publicly available information from sources believed to be reliable—we cannot assure the accuracy or completeness of these materials. The information in these materials may change at any time and without notice.