The Federal Reserve gave its strongest indication yet that it might raise rates in 2016, while OPEC reversed its two-year stance and announced that it would consider cutting crude oil production. The result was a somewhat rocky September, though global securities markets largely generated positive results. In the U.S., small caps continued to outperform, as did energy and tech sectors, while dividend oriented stocks and most bonds lagged due to investor concerns over rising rates. International equities continued to experience a strong post-Brexit rally, particularly in emerging markets which has benefitted from a recovery in corporate earnings after nearly five years of declines.
-The Federal Reserve left interest rates unchanged in its September meeting but admitted that the case for an increase in December has strengthened given a steady labor market and recent increases in wage growth and inflation

-OPEC admitted that a reduction in member production could further aid a recovery in global crude prices; the production cut could come as soon as November as member nations economies (e.g., Saudi Arabia) remain weak on account of depressed oil revenues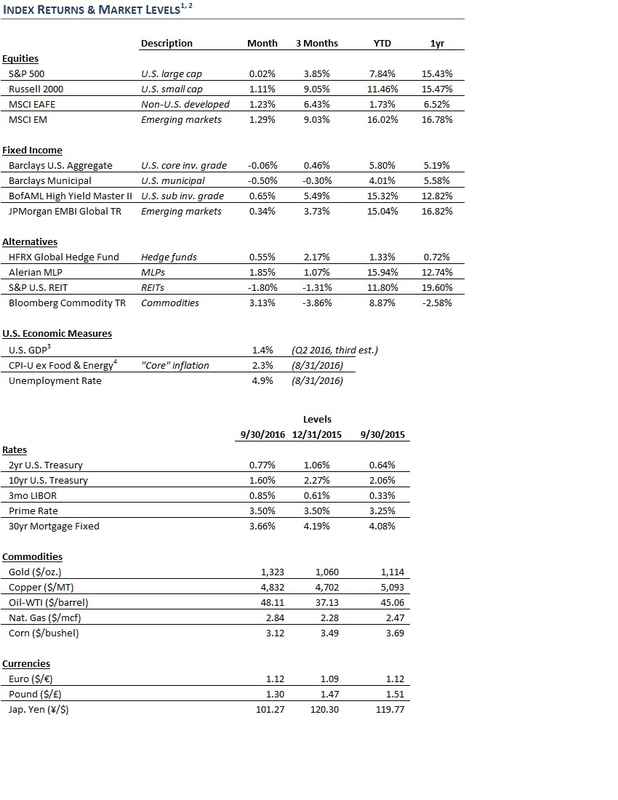 DISCLOSURES

The information presented here is not specific to any individual's personal circumstances. To the extent that this material concerns tax matters, it is not intended or written to be used, and cannot be used, by a taxpayer for the purpose of avoiding penalties that may be imposed by law. Each taxpayer should seek independent advice from a tax professional based on his or her individual circumstances.

These materials are provided for general information and educational purposes based upon publicly available information from sources believed to be reliable—we cannot assure the accuracy or completeness of these materials. The information in these materials may change at any time and without notice.