The losses of October extended to the first week of November, with investors continuing to unload equities ahead of the U.S. presidential election. After the surprise of a Trump victory settled in, markets sharply changed course, with equities rallying through the month on the prospect of a pro-growth/business administration. Domestic stocks rose sharply, especially small caps and cyclical sectors (energy, industrials), while international equities suffered due to the overhang of an Italian banking crisis as well as the specter of trade wars with the U.S. Bonds experienced losses as growth/inflation forecasts picked up in conjunction with a Federal Reserve that appears more likely to raise interest rates in its December meeting.
- OPEC announced its first production cut since 2008, committing to reduce output by 1.2M barrels/day in order to help balance the global supply of crude; Russia also announced an output cut, marking its first coordinated cut with OPEC in 15 years
- The combination of a Trump victory and Chair Yellen stating that the Federal Reserve could hike rates "relatively soon" caused interest rates to rise steadily through November; it is widely expected that the Fed will increase the discount rate at its December meeting
- Corporate profits increased by 5.2% during Q3, as strong consumer demand helped inflate earnings in technology, materials, and financials; Q3 represents the first profitable quarter since 2014 and the best quarterly gain since 2012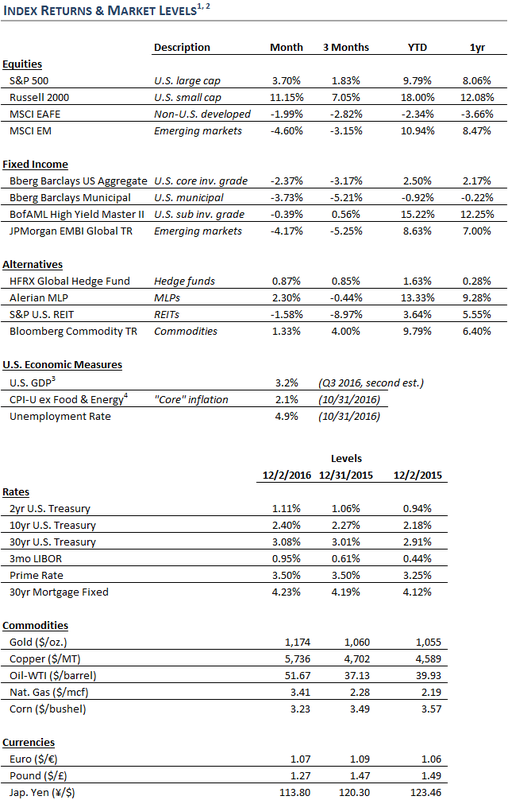 Disclosures: This material is provided for informational purposes only and does not constitute an offer or solicitation by HFS, or its subsidiaries or affiliates, to invest in these indices or their constituent products. The data contained herein are from referenced sources which HFS believes to be reliable. This information discusses general market activity, industry or sector trends, or other broad-based economic, market or political conditions and should not be construed as research or investment advice. The views expressed are those of HFS. They are subject to change at any time. These views do not necessarily reflect the opinions of any other firm. Investing involves a high degree of risk, and all investors should carefully consider their investment objectives and the suitability of any investment. Past performance is not necessarily indicative of future results. All data is as of the date of this report unless otherwise noted.