The post-election rally carried on through December, benefitting most equities and capping off a strong year. Bonds also benefitted, ending a multi-month slide, despite the Federal Reserve deciding to increase interest rates in December. We thought it would be interesting to share a few facts relating to the S&P 500 Index's strong performance in '16: a) its 12.0% gain was comprised of 9.5% from appreciation and 3.5% from dividends, b) if you exclude the 3 best days of the year then the gain falls to 4.4%, c) if you exclude the 3 worst days of the year then the gain rises to 22.1%, d) the average annual return over the last 50 years is 10.2%, e) annual returns have been positive 13 of last 14 years, including 8 in a row (9 is the record), and 40 of the last 50 years (80%), and f) over the last 50 years, 53% of trading days have been positive and 47% negative (2016 was 52/48).
- The Federal Reserve increased the Fed Funds rate by 1/4 point, increasing the target range to 0.50-0.75%; additionally, the Fed indicated the potential for three rate hikes in 2017 subject to the economy's reaction to the President-elect's fiscal spending policies

- The U.S. dollar index reached a 14-year high in December as the Federal Reserve raised interest rates for the second time this cycle; dollar strength remains a headwind for domestic exports (manufacturing) and multinational companies with non-dollar earnings

- The European Central Bank reiterated its commitment to supporting the European economy by maintaining its bond purchase program through the end of 2017, though it will taper monthly purchases from €80B to €60B beginning in April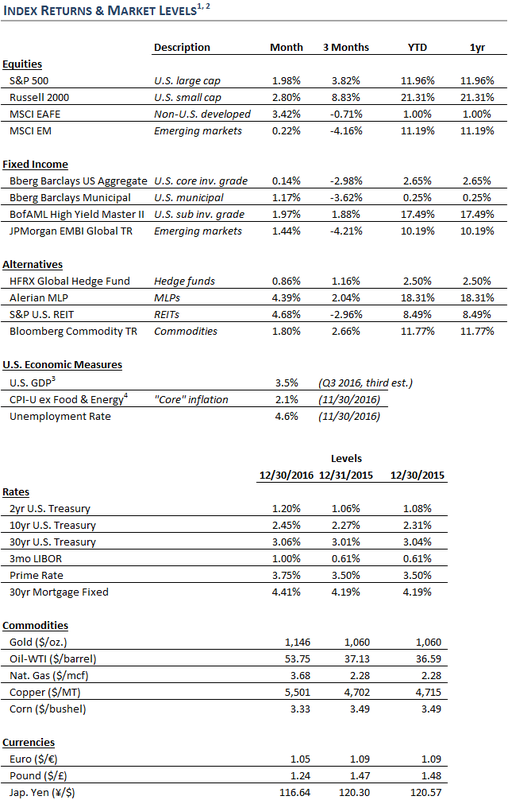 Disclosures: This material is provided for informational purposes only and does not constitute an offer or solicitation by HFS, or its subsidiaries or affiliates, to invest in these indices or their constituent products. The data contained herein are from referenced sources which HFS believes to be reliable. This information discusses general market activity, industry or sector trends, or other broad-based economic, market or political conditions and should not be construed as research or investment advice. The views expressed are those of HFS. They are subject to change at any time. These views do not necessarily reflect the opinions of any other firm. Investing involves a high degree of risk, and all investors should carefully consider their investment objectives and the suitability of any investment. Past performance is not necessarily indicative of future results. All data is as of the date of this report unless otherwise noted.