Global equities extended their gains into January, with modest appreciation in the U.S. overshadowed by more substantial gains abroad. Gains were broad-based in the U.S., with energy the only material detractor, while small cap returns were tempered somewhat after a very strong post-election period. International shares benefitted from a mild weakening of the dollar, which had appreciated aggressively into year-end, as well as a pickup in growth expectations in 2017. Interest rates were largely unchanged during the month as few anticipate a hike at the FOMC's February meeting. Accordingly, bonds delivered positive results, with corporate credit outpacing Treasuries.
- President Trump issued a number of executive orders and memoranda within the first week of his presidency; notably to investors, he threw his support behind the Keystone XL and Dakota Access pipelines and also withdrew the U.S. from the Trans-Pacific Partnership (TPP)

- The Q4 earnings seasons is off to a good start and on track to deliver a second consecutive quarter of earnings growth; much of the growth has come from a recovery in the energy sector as well as strong performance from financials (rising interest rates) and technology

- The Dow Jones Industrial Average, an index comprised of 30 "blue chip" large cap stocks, surpassed the 20,000 level in January; it took the Index over 100 years to reach 10,000 and nearly 18 years to eclipse 20,000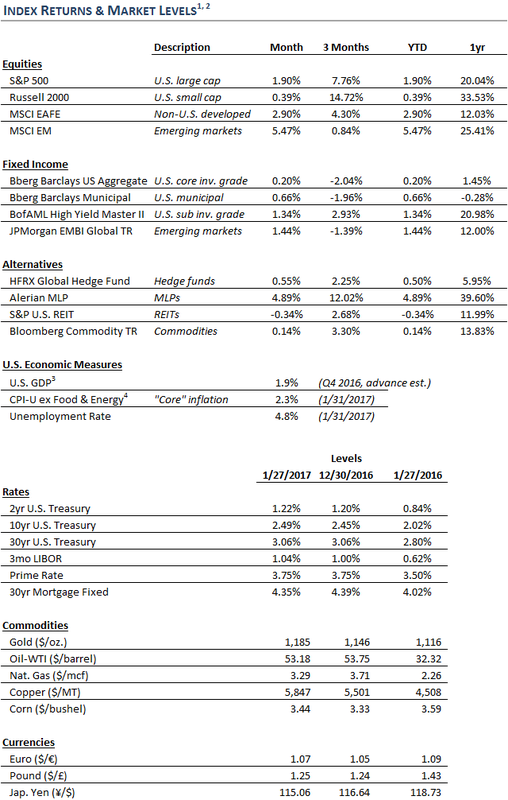 Disclosures: This material is provided for informational purposes only and does not constitute an offer or solicitation by HFS, or its subsidiaries or affiliates, to invest in these indices or their constituent products. The data contained herein are from referenced sources which HFS believes to be reliable. This information discusses general market activity, industry or sector trends, or other broad-based economic, market or political conditions and should not be construed as research or investment advice. The views expressed are those of HFS. They are subject to change at any time. These views do not necessarily reflect the opinions of any other firm. Investing involves a high degree of risk, and all investors should carefully consider their investment objectives and the suitability of any investment. Past performance is not necessarily indicative of future results. All data is as of the date of this report unless otherwise noted.