The market narrative in June was largely driven by the referendum in the UK on whether to stay or leave the European Union, the so called "Brexit" vote, with the leave vote shocking markets and causing global equity markets to sell-off over the subsequent days. Markets were quick to recover and rallied into month-end, with emerging markets leading the charge based on the strength of the global commodity recovery. U.S. equities ended flat to positive, led by utilities and energy. International developed equities suffered mild losses given uncertainty surrounding the UK's exit of the EU and its impact on Eurozone trade. Bonds posted strong returns across the board, benefitting from a flight to safety trade.
- The Federal Reserve declined to raise interest rates in its June meeting and also lowered guidance on its long-term expectations for interest rates due to uncertainty surrounding the "Brexit" and its negative impact on global growth

- Global bonds experienced a flight to quality, pushing the U.S. 10yr yield to a four-year low and the 10yr German bund yield below 0% for the first time ever; per the Wall Street Journal, nearly 80% of sovereign bonds in Germany and Japan carry negative yields

- The British Pound experienced steep declines following the UK's decision to exit the EU, with the pound declining to $1.33/GBP, a level not seen in 30 years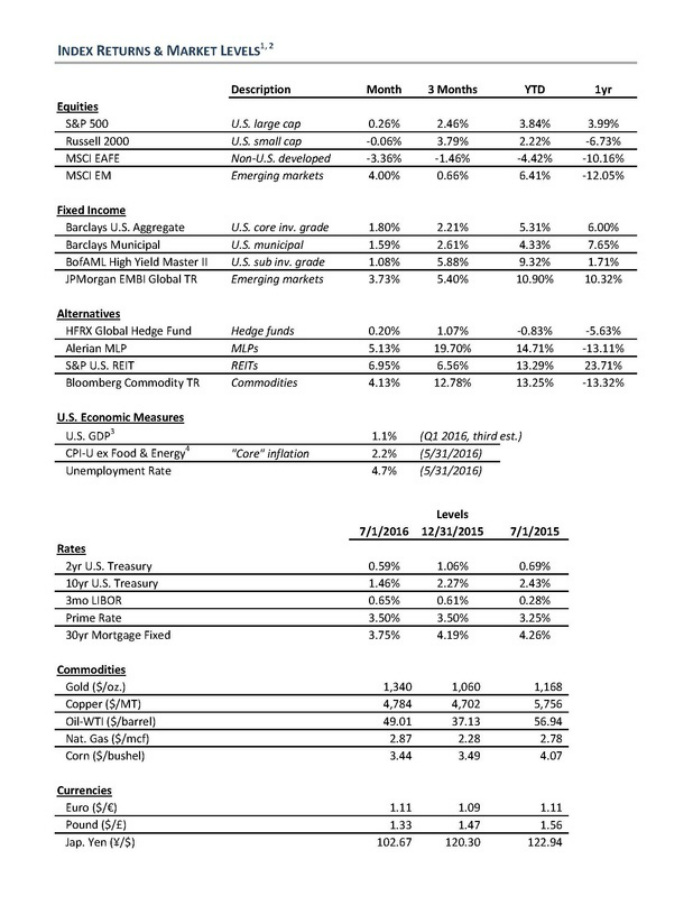 DISCLOSURES

The information presented here is not specific to any individual's personal circumstances. To the extent that this material concerns tax matters, it is not intended or written to be used, and cannot be used, by a taxpayer for the purpose of avoiding penalties that may be imposed by law. Each taxpayer should seek independent advice from a tax professional based on his or her individual circumstances.

These materials are provided for general information and educational purposes based upon publicly available information from sources believed to be reliable—we cannot assure the accuracy or completeness of these materials. The information in these materials may change at any time and without notice.