Global securities markets took a step back in October, as equity markets weighed the potential investment implications of a tight (and contentious) presidential race in the U.S. Bond markets, too, sold-off given continued rhetoric from the Federal Reserve all-but-stating that economic data is supportive of a possible interest rate hike in December. Financials were the lone bright spot during the month given that banks benefit directly from higher interest rates; healthcare stocks lost nearly 7% as policymakers mulled regulation to address recent drug price inflation. A steepening yield curve provided a headwind for bonds, compelling investors to sell corporate bond funds and other "bond surrogates" such as MLPs and REITs.
- Corporations in the U.S. are on track to post quarterly profits in Q3; to date, 73% of S&P 500 constituents have reported a YOY gain of 1.6%; while below long-term averages, Q3 earnings are noteworthy given that the S&P has posted a loss in each of the last 5 quarters

- The U.S. economy expanded by 2.9% in Q3, its highest GDP growth rate in two years; much of the growth is attributed to inventory build-up and an increase in exports, the latter of which has benefitted from a weaker U.S. dollar

-Inflationary pressures continue to mount in the U.S., with the most recent sign of positive inflation coming from the BLS, which reported that wages grew at 2.8% YOY in October, the fastest growth since 2009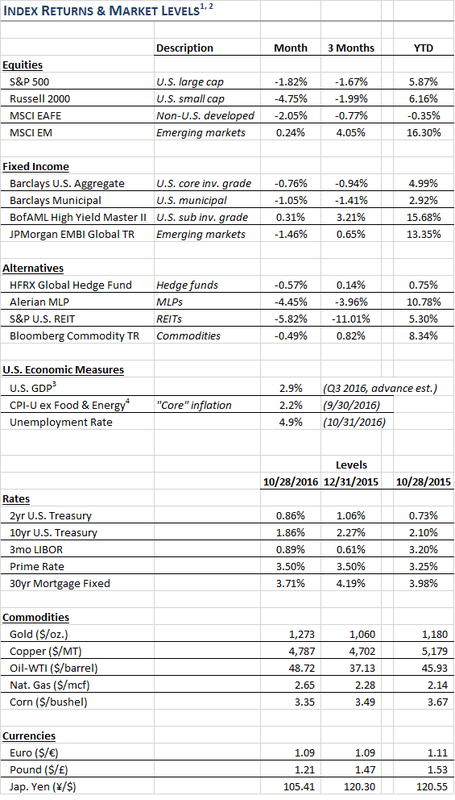 DISCLOSURES

The information presented here is not specific to any individual's personal circumstances. To the extent that this material concerns tax matters, it is not intended or written to be used, and cannot be used, by a taxpayer for the purpose of avoiding penalties that may be imposed by law. Each taxpayer should seek independent advice from a tax professional based on his or her individual circumstances.

These materials are provided for general information and educational purposes based upon publicly available information from sources believed to be reliable—we cannot assure the accuracy or completeness of these materials. The information in these materials may change at any time and without notice.